Was that a day full of wonder, or what? Well there was too much left of the day to squander. We headed (by van) to the obsidian flow trail and hiked over the edge into an obsidian wonderland. Huge boulders of the rock tumbled and scrambled everywhere. Trails snaked around and always upward into the flow itself and well into the area we had seen from Paulina Peak just hours before. No scavenging allowed so I just salivated at the possibility of bringing a rock back to the McNary NWR Edcuation Center on which our resident knapper could ply his skill. Well he gets arrtificial glass from the Hanford site reactors so he doesn't lack for raw materials.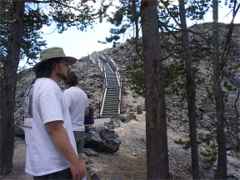 Steel stairs took visitors up the steepest area.

I am pleased with the safe stairs provided.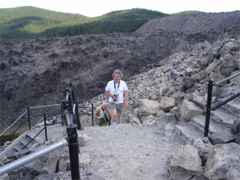 Mike and Naomi followed Tim to the rim.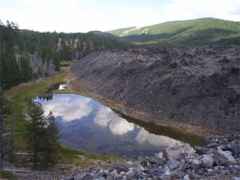 Summer clouds gave perspective to the little lake
above the stairs.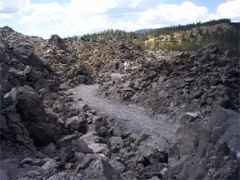 Obsidian had been disturbed for many years
by illegal collectors before the trail finally developed.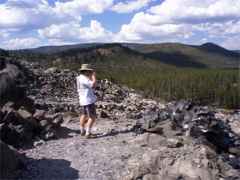 Lava cones seemed to pop up in every direction.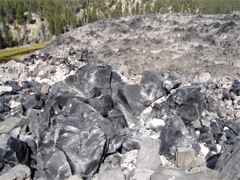 The undisturbed obsidian was gray and glassy in the sunshine.