Historic Sherer Photos
James Thomas Sherer was born on July 21, 1883, probably somewhere in Pennsylvania. He poses here on the left with buddies, location unknown, in 1905. Can someone help us identify any of them?

James Thomas Sherer came to Sartell, Minnesota, where he met Carrie Rasmusson. They were married in 1906. Their wedding picture is shown below. They had five children, three girls, Arvilla, Mary, and Ethel who are deceased. Ronald Albert is also deceased. James Delbert lives in Pelican Rapids, Minnesota.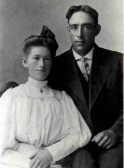 Anna Katherine Hanson and Andrew Rasmusson were born in Denmark in 1853. They were married in March 1878 and came to the USA in 1879. They lived in Wisconsin and Minnesota where they raised six girls and one boy. This photo was taken in the 1920's.
Marion Sherer, daughter of Cloyd Sherer, James T. Sherer's brother, was married in the early 1930's to Swalboski. Ethel Sherer, on the right, was one of her bridesmaids.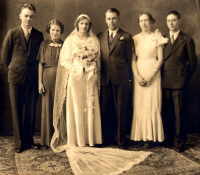 Photos from archives of Naomi Hodak Sherer 1999